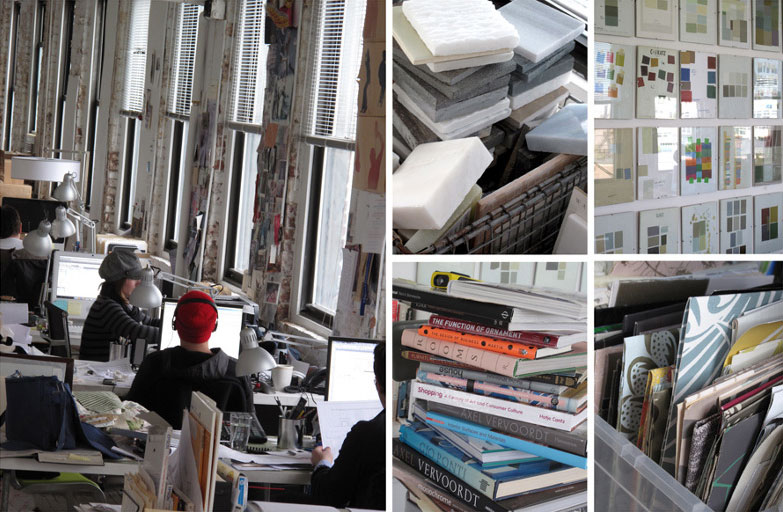 Philosophy
Designers often think that the best solution for a design problem is the outcome of a logical thought process, a problem-solving exercise outside of issues of "taste" and "style". We've taken a different approach over the last 35 years. We've tried to confront style head on.
We've always had the sense that the way to navigate the vagaries of fashion and obsolescence—the inevitable fact that stylish design becomes quickly dated—is to choose freely from the world of images. We've tried to avoid the political and moral issues that are associated with working in a particular idiom—modernism is often thought of as morally superior to, say, a (decadent) period style.
We believe that the only truly modern approach is one best described as hyper-eclectic.
Process
We try to understand what is really important to the client, and how far the edges can be pushed. We learn about the schedule and budget constraints. We try to understand the existing conditions—what the host building has to offer. We do enough research to understand how others have approached similar situations. We collect materials and images that seem pertinent. We internalize all this and put it aside. Then, we design.
We tend to think of all projects as brand exercises. Once we began creating environments for retail clients—spaces that support and extend retail brands—we found that the same strategy could be applied to any program that one could encounter in the fields of interior architecture and decoration. We approach the design of a residence, for instance as—without any irony—an exercise in the brand identity of the family who will live there.
All of our projects are collaborative efforts. Our studio is a big open loft space and though one of us manages any given project, we all get involved in the design process. Spontaneous brainstorming sessions are a way of life for us.
We work closely with clients throughout the design and construction process. Our clients tend to be smart, engaged, and committed to good design.
Often we team up with other design professionals: graphic designers, landscape designers, lighting consultants, engineers. We also work closely with the people that build our projects. Craft is critical to the success of our work, so we collaborate with the woodworkers, plumbers, electricians, masons, metal-smiths, painters, upholsterers, and the other contractors and craftsman who are an important part of the outcome.
The design process is what makes us tick, but the outcome of the design process is how we're judged. Press is nice, and we've had our fair share, but happy clients are what make us the most proud of our work. Happiness comes in many forms, from staying within a tight budget, to making a place feel right. And judging from the number of repeat clients we're blessed to have, we're pretty sure that we are making them happy.
Bio
C&J Katz Studio was started in 1984.
Cheryl Katz is a local girl. She stayed close to home when her parents convinced her to go to the School of Education at Boston University. But in her heart, she knew that fashion, retail, and design was her true calling. After a couple of years teaching and writing curriculum, she wrangled a job at Bonwit Teller and never looked back. As luck would have it, while at Bonwit's, Cheryl ran into an old friend who helped her land a job in the fashion office of Jordan Marsh Company. This is when her real education began.
Jeffrey Katz studied architecture at Carnegie-Mellon University in Pittsburgh, where he grew up. Right after getting a Bachelor of Architecture degree he headed to Cambridge to continue his studies and a year later received a Master of Architecture degree from the Graduate School of Design at Harvard. That's when he met Cheryl, and three years later they were married. He spent the next several years at an architecture firm in Boston—where he worked with the partner in charge of interiors—and teaching at Rhode Island School of Design (RISD).
Cheryl decided that it was time to strike out on her own as a freelance fashion stylist. This often took her to New York, helping to convince Jeffrey that he, too, should be on his own. He quit both of his jobs and together they found a great apartment in a pre war building in Midtown and moved to New York. It was 1984 when the second bedroom of the apartment on W 55th St. doubled as the first office of C&JKatzStudio.
In New York, Judy Casey represented Cheryl and Jeffrey. Judy helped get them all kinds of assignments. They designed and styled sets for magazine and TV ads. Soon, fashion work morphed into design work as clients who first worked with them as stylists and set designers now hired them as C&JKatzStudio. Gant Shirtmakers was the first.
Cheryl had been working with Gant on a catalog when they asked if she'd design their showroom for fashion week. That was the first project that Cheryl and Jeffrey worked on together as C&JKatzStudio. Shortly after, they designed the first freestanding Gant store—it was on Columbus Avenue in the Upper West Side. The third project was the design of Gant in-store shops, which were installed in department stores around the country.
A couple of years later, just as Cheryl and Jeffrey began working with a start-up company called Domain—a project that had them spending half their time back in Boston and introduced them to the home furnishings world—their first child, Fen was born. After a couple of years of shuttling between NY and Boston with Fen (who amassed a great number of frequent flyer miles by two years old) they decided to settle back in Boston. A year later their second child Oliver was born.
Since then the duo has designed dozens of residences as well as a lot of restaurants, retail shops, exhibits, workspaces, and private clubs. They've written a couple of books and hundreds of articles along the way and have garnered a fair share of awards and accolades, including their induction into the New England Design Hall of Fame in 2009.
We work with an extraordinary team:
Quin Robertson came to Boston in 2000 to study film at Emerson College. Finding that dressing sets was more thrilling than checking apertures and splicing film, she transitioned to styling, then visual merchandising, ultimately landing on her true love—interior design. She cut her chops working for designer Jimmy Stanton in Atlanta before moving back to Boston and joining C+J Katz Studio in 2009. Since then, Quin has been the Project Manager for the Essex County Guest House, the Graphic, and the West Canton Street Townhouse to name just a few. In September 2021, Quin became a Senior Designer at the studio. She lives in Milton with her husband Travis, daughter Welby, and their two Great Danes.
Shane O'Brien joined the studio in 2012 when he was a graduate student at the Boston Architectural College. He received a Master of Architecture degree in 2016. He has been the Project Manager for a diverse array of projects including the Library Bar at The Country Club in Brookline, the Gold Bar at Menton, Spark Capital's New York and Boston offices, Longwood Cricket Club, and many residences. Shane was named Senior Designer in September 2021.
Paria Heidari joined the studio in August, 2018 after receiving a Master Arts in Adaptive Reuse from RISD. Paria has a Bachelor of Science in Architecture from Soore University of Tehran. Her professional experience includes seven years at Pooyandeh Naghsh Architects in Tehran. Since arriving at the studio Paria has working with Jeffrey and Shane on the Athena Cluster at MIT, The Graphic in Somerville, workspaces for Flywire in Boston and Chicago, and residential projects in Boston, Newton and Brookline, MA..
Christine Nolan joined the studio in 2021 after working with several non-profit arts organizations in Boston and Pittsburgh. Christine holds a Bachelor of Arts in Studio Art and French from the University of Mary Washington in her home state of Virginia, as well as a Master of Arts Management from Carnegie Mellon University. Most recently, she completed a certificate in Interior Design at Boston Architectural College.
Diana Faust has been our bookkeeper for 20 years (which means that she started when she was 14 years old). Wise beyond her years, she has guided the business with attention to detail, a sense of calm, and an incredibly good nature.